Please Note That Prices Are Subject To Change
Due to high volume for delivery from June 1 through Sept. 30, pricing is subject to an increase.
Please call for an exact quote that will include delivery and labor.
Speak with an event specialist
Have specific questions about your event? Our trained staff would be happy to help. Fill out our contact form or call us now!
515-266-3223
Structural Tent Rentals For Parties, Weddings, Banquets, Receptions
Structure tents, (also known as clearspan tents) have become quite popular in recent years. They were first developed in Europe and used the metric system of measurement; speciffically meters. 1 meter = 3.281 feet. These are the stronges, most durable tents on the market.
Structures tents have a skeleton frame and are put together at ground level. Depending on the structure size, it may require heavy lift equipment like forklifts or cranes for installation. The tent tops and sidewall panels slide into channels (called keeder tracks) on the skeleton frame and become very tignt thus aiding in the buildings strength.
Structure tents can be built to very long lengths and are capable of housing very large events. Structure tents are the prefered tent for long term rentals, winter installations, and inclement weather.
These tents are engineered which is necessary as many local fire departments and governments are requiring permits to be obtained prior to installation.
Our tent rental service is unmatched and our professional and courteous installation staff will ensure your structure(s) and accessory equipment will be installed safely and on time. It is our goal to make your event an "Classic Event"!
Call for pricing and availability.
Quick View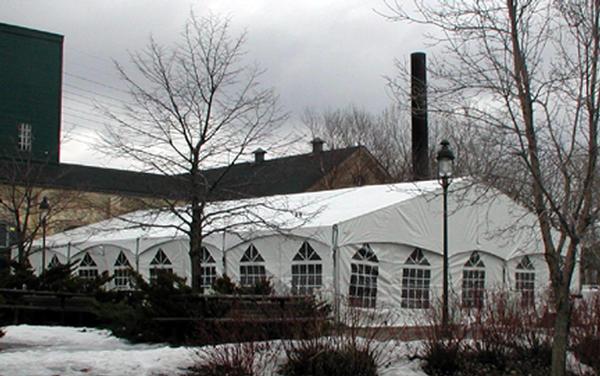 40' Wide Structure Tents
---
View